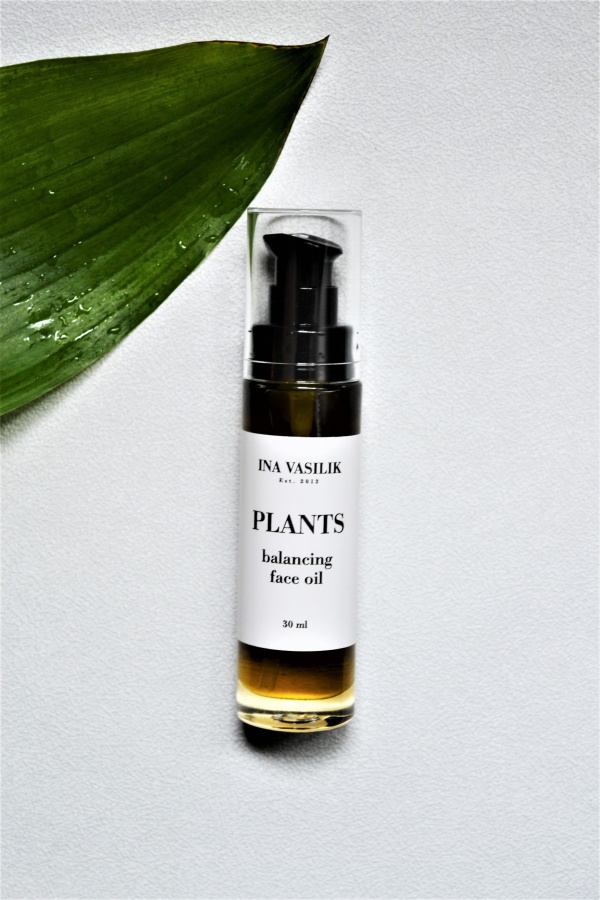  
PLANTS face oil
Unique skin oil with a balancing effect on the skin.
Unique skin oil with a balancing effect on the skin. Its unique formula is based on a high content of antioxidants thanks to oils of blackcurrants, aronia, hemp, rice oil and vitamin E. It has an antibacterial effect on problematic skin with a tendency to acne, restores damaged structure of cracked skin, provides significant relief of scaly and sensitive skin. Essential oils from sandalwood, oriental incense, copaiba, clary sage, elemi, bois de rose, lavender and wild orange efficiently regulate sebum distribution, thereby favorably balancing all skin areas. The skin is nourished, softened, breathes freely and its appearance is naturally healthy and clear. 
BLACKCURRANT OIL
The oil has a high content of omega 3 and 6 fatty acids, helping to reduce skin inflammation and redness, vitamin C and linoleic acid, which effectively prevents excessive skin drying. It significantly improves immunity, has strong anti-inflammatory effects, speeds up the healing process, and helps with unwanted conditions such as psoriasis, eczema and mold.
ARONIA OIL
Aronia oil is an extremely powerful antioxidant that neutralizes free radicals, strengthens capillaries and blood vessels in the body. It relieves sensitive, dry and itchy skin with a tendency to crack. It contains the necessary unsaturated fatty acids LA linoleic acid, alpha-linolenic acid ALA and oleic acid Ω-9. Aronia oil positively affects the healing processes of all injuries and frostbite. Prevents blackheads, the skin is elastic, soft, moisturized and supple. This product is ideal for dry, mature and sensitive skin. 
HEMP OIL
Hemp oil is a natural way to heal the skin with a wave of incredible vitamins. With a large amount of omega fatty acids and proteins, it nourishes the skin amazingly, helping to remove acne and eczema. Hemp seed, which has a particularly softening and absorbent character, can balance tone and texture with vitamins A, B1, B2, B3, B6, C, D and E. It also has rich levels of anti-inflammatory and antioxidant properties. For those looking for clearer and healthier skin, it can help reduce toxins while relieving muscle and joint pain. 
RICE OIL
It is a light and softening oil, rich in vitamin E and linoleic acid. Thanks to a store of antioxidants and fatty acids, rice bran oil is a great addition to any skin type, especially mature or sensitive. It contains not only vitamins B and E, but also squalene, which is easily and quickly absorbed. It is also a fantastic source of vitamin E, giving it an incredibly long shelf life. Rice bran oil is great for treating dry, cracked or tanned skin from the wind, acts as a natural softener, leaving the skin soft, smooth and treated. This oil is also effective in treating hair, leaving it nourished, shiny and firm. 
Free of preservatives, parabens, synthetic fragrances, petroleum components and coloring agents. 100% natural. Vegan. Not tested on animals.
Instructions: Click 1-2 times in moistened hands and apply morning and evening on face, neck and décolleté. Also suitable as a base for makeup. Keep in a dark place out of the reach of children. Do not use on open wounds and avoid contact with eyes. Not suitable for pregnant and breastfeeding women. 
INCI: Cannabis sativa seed oil, Oryza sativa seed oil, Ribes nigrum seed oil, Aronia melanocarpa seed oil, Olive squalane, Santalum album, Boswellia rivae, Salvia sclarea, Canarium lusonicum, Citrus sinensis, Copaifera officinalis, Aniba rosaeodora, Tocopherol (E).
* limonene, * linalol, * geraniol, * eugenol, * citrall, * citronellol, * farnesol.
* Natural ingredients in essential oils.